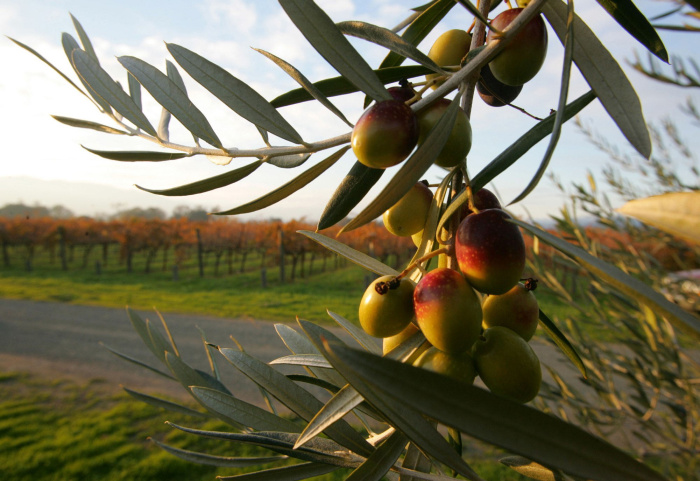 It's impossible not to be won over by the scenery and the hospitality of California's wine country. Once you experience its beauty, it will leave indelible memories that promise to last a lifetime. You unavoidably engage your full range of senses when exploring this rich, complex land. A coach tour is a great way to take it all in, especially if you have a short time to spend.
The last stop, on our first day took you to Sonoma Valley and Nicholson Ranch. Their hospitality extended to a delicious dinner on a patio where the sky bursting with stars is your roof. You don't want to miss out on an evening in wine country so a walk down to the pond, with a side trip to visit the horses, caps the day off perfectly. The first day leaves you exhausted in a soft and relaxing way, and a good night's sleep is pretty much a guarantee.
Day two starts with a hazey sunrise overlooking acres of grape vines. With a sumptuous, hearty breakfast to begin your day you are ready to go. Expect a full day-tripping to two more outstanding vineyards. Starting with Round Pond Estate. Round Pond is a olive vineyard growing Spanish and Italian olives they press into some of California's finest olive oil. Their olive and grape growyards cover 400 acres of cultivated land, and it's breathtaking. Inside you get a lesson in how to taste olive oil for its intrinsic quality. To know a good oil from another, simply take a small sip, suck air in through your teeth, then blow out through your teeth.
This is the test that tells. A tour of the processing rooms is interesting, and depending on the time of year, you can see how the olive oil is pressed. Adding to the stop at Round Pond, is a tour of their wine cellars and naturally a tasting. The family owned business is one of the newest estates to be developed. Officially arriving on the scene in 2007, this grow establishment is making a great reputation for itself. It is designed to produce wines that are a balanced blend of artisan techniques and cutting-edge technology. Hand-sorting twice and attention to details in the fermenting and aging process gives the wine at Round Pond its distinctive characters.
As a grand finale the next vineyard is truly mind blowing. Castello di Amarosa will take you into another world. Castello di Amarosa is an authentic castle built in a 13th Century Tuscan design. Dario Sattui, the owner, has a passion for mid-evil architecture and there is no detail left to guess. The castle's wine cellars, aging rooms, public areas and staff living quarters are all accurate to that time period. Sattui takes his guest into another time with gardens of fresh flowers a stone bridge and colorful tapestries and rugs. The winery incorporates state of the art techniques while staying true to the character of the grapes. It is not a Disneyland atmosphere, but rather an elegant and stately winery.
The castle is over 8,500 square feet and its been heard that Dario Sattui wants to expand beyond that. Specializing in bold red wines their Cabernet Sauvignon and La Castellenan Super Tuscan have won numerous awards. Not slacking in the production of white and lighter wines the winery boast light-bodies white and sweet wines, like their renowned Pinot Grigio and La Fantasia. In limited supply the crisp, bright qualities of these two wines are coveted by wine buffs from all over the world. Between the fairy tale scenery and the delicious food and fare that's offered, you are sure to feel like you've entered another realm.
It's California Wine country at it's best. Going by coach, train or automobile, just go! Check with a reliable tour operator and schedule a time when the weather is at it's best – wide window usually, and the wineries are in production. Spending time in Napa and Sonoma Valley is one of the most rewarding trips you can ever take.
To see first hand, and learn from the experts who work behind the scenes, along with tasting some bad ass wines is the best life has to offer. Leave a comment below. Have you taken a trip through California's wine country that you could share about? Love to hear from you.